Almost all stationery shops have picturesque watercolours and sets of coloured chalks which make ideal presents. Other nice trinkets are compact emerald green absinthe bottles, Bohemian crystals, coloured necklaces, trendy (and sometimes crass) nesting dolls, garnet jewels and ceramic items.
Porcelain and glass-wear are especially renowned, and each can be located in aristocratic collections throughout Europe. One exclusive brand is Bohemian Crystal, although it has factories dotted around the country.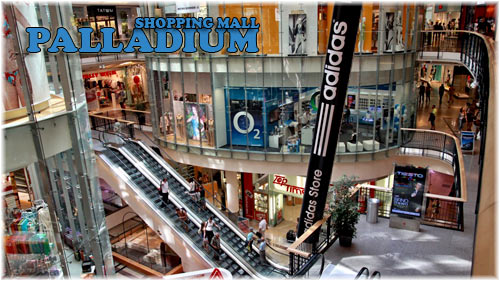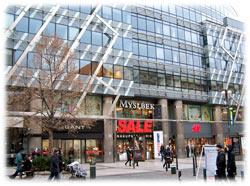 The primary shopping precincts have been pedestrianised. Na příkopě lies at the bottom of Wenceslas Square, bordered by medium-range overseas vendors, and by Národní Street. The prestigious Slovanský dům in Na příkopě is a big complex, offering an array of swish stores and boutiques, along with venues for eating, drinking and relaxing. However, for the best department shop, travel out of Na Příkopě to Republic Square, where you'll discover the newly constructed big Palladium shopping mall. Here, there now lies 5 glittering stories filled with 170 of the top brands, thirty eateries and central Prague's biggest car park in place of the old derelict barracks. Whilst many important high street vendors are located adjacent to Old Town Square on Pařížská Street (the street linking the Square with the River Vltava), Celetná is on the souvenir strip, located in an area in-between Charles Bridge and Old Town Square. It is filled with compact, maze-like streets which boast the biggest concentration of shops in the city. Visit Charles Bridge itself, which is home to many small, quaint kiosks.
A nice place for souvenir shopping is Ungelt (Týn Court), to the rear of Týn Church. Here, you will discover fashion accessories, books, wines (to taste), and restaurants and cafés – where you can have a rest.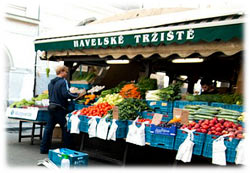 Prague has a couple of permanent markets: Havel's Market (Havelské tržiště), the Old Town's primary open-air market, characterised by a nice selection of vegetables and fruit, leather items, artworks,  wooden toys, ceramics and flowers; and Pražská Tržnice, that has open-air market stalls which sell virtually everything. Each attracts a sizeable crowd of local people and foreigners. It is best to leave Haggling until the close of the day because the vendors are always more open to offers then.
Tip: Luxury shopping around Parizska Street
The Josefov district, especially Pařížská Street, hosts numerous boutiques stocking luxury labels as well as flagship designer stores. Pařížská Street's glossy offerings include Prada, Louis Vuitton, Hugo Boss, Gucci, Vertu, Fendi, and Burberry.
Antiques: Antiques shops, also found under the signs starožítnictví, vetešnictví or bazar, contain many treasures. They are often located in the quiet and abandoned back streets of Old Prague, where quality paintings, kitchenware, old furniture, jewelry and linens can be found. Some antique shops specialize in selling old cameras, used vinyl records and clocks as well.