Each day performances intended for visitors populate beautiful halls and churches with the music of the crowd-pleasing sort: Vivaldi, Best of Mozart, Most Famous Arias, and works by the well-known Czech composer Antonín Dvořák.
Classical Music

Prague has two well-known, established concert halls – the Dvořák Hall in Rudolfinum and the Smetana Hall in the Municipal House – but it is possible to find concerts of classical music all around the city. Among the most renowned concert halls are Bertramka (Museum of Mozart) and Atrium in Žižkov. Concerts and recitals of classical music held in churches and palaces are also popular. Regular concerts take place on the steps of the National Museum and during the summer in some of Prague gardens.
The Czech Republic has produced a few famous composers, including Dvořák, Martinů, Smetana, Janáček and Mahler. Mozart also liked to perform in Prague because of his fine relationship with the city. Prague has four theatres where opera is performed and a few orchestras, the most famous being the Czech Philharmonic (Česká Filharmonie) located at the Rudolfínum.

Opera
The two major companies, the National and the State, both perform exclusively in their own theatres – the National Opera Company in the National Theatre; the State Opera Company at the State Opera. The latter presents a predominantly classical Italian repertoire, always in the original language, and performances are always popular. Tickets should be bought in advance. The National Opera Company has a more experimental repertoire, and most of its operas are performed in Czech. To view a Czech opera by Czech composers Smetana or Dvořák, the National Theatre is your best opportunity to do so. A lesser-known opera company based at the Estates Theatre performs mainly classical Italian operas in the original language. Opera tickets for top-price seats range from 1,000 CZK to 1,300 CZK, making opera in Prague more accessible than most cities in Europe.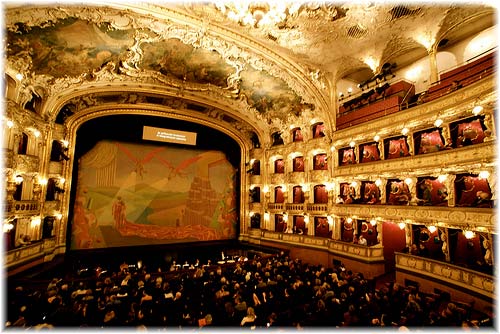 International Music Festival
The Prague Spring (Pražské Jaro) is the biggest annual event. It includes outstanding performing artists, symphony orchestras and chamber music ensembles from around the world. The festival commemorates important musical anniversaries by including works by the composers concerned with its programmes. It presents Czech as well as world premieres of compositions by contemporary authors. This is not to be missed. For more details, including the festival's programme, visit www.festival.cz. It is recommended that you buy tickets in advance at www.TicketPro.cz (ticketing network in Prague). On the other hand, there are four to six concerts every day, so it is easy to go along. Many concerts are performed in Prague's churches, so be prepared for a chilly evening; some are in gardens and courtyards. Performances generally start at 5 pm or a little later.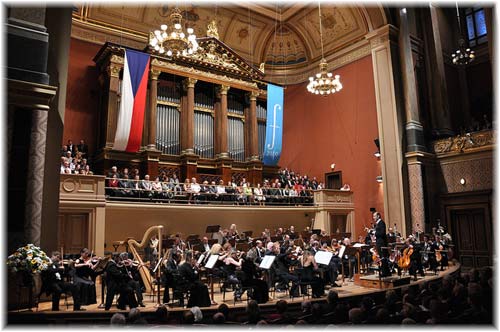 Concert Halls and Other Places Where Concerts Are Held
Municipal House, nám. Republiky 5
Rudolfinum, nám. Jana Palacha 1
Atrium na Žižkově, Čajkovského 12
Klementinum, Klementinum 190
Lichtenstejn Palace, Lesser Town Sq. 13
National Museum – historical stairway, Wenceslas Square 68
Church of St. Francis, Prague 1, Křížovnické nám. (next to Charles bridge)
Church of St.Caetanus, Nerudova
Monastery of St. Anna, Liliová
Selected Places to Enjoy Musicals
Congress Centre Prague, třída 5.května
Theatre Kalich, Jungmannova 9
Goja Music Hall, Prague Exhibition Grounds
Theatre Broadway, Na příkopě 31
Verdi Festival
Featuring works by Verdi. Performances at the Prague State Opera. From the beginning of August to September.  www.narodni-divadlo.cz
State Opera Prague
Czech Philharmonic Orchestra
Prague Symphony Orchestra
Tickets and Reservations
Even if you think you have to pre-book your tickets for classical music, opera, theatre or ballet or even some rock concerts, you might be lucky to buy some half an hour before the show (or at the theatre box office). To take advantage of booking ahead and have peace of mind, you will find plenty of agencies that deal with venues and opera and concert booking (generally, all accept credit cards at no surcharge). The most recommended ones are Ticketpro and Ticketcentrum. Generally, all venues offer some discounts for students, children and the disabled.
Tip: Everyone tells you not to trust the Czech taxi drivers especially to and from the Airport. Simple solution book and prepay your taxis through Prague Airport Transfers.